Lori Martini is a girl on a mission!
The Brooklyn resident is a  die-hard NY Mets fan who has written what she hopes will become the new Mets anthem. Her song "Believe" debuted at Citi Field on May 27, 2011. Angel Pagan has called it "inspirational", and Justin Turner uses it as "his song" when he walks up to bat. "Believe" has also been performed during Cyclones games in Brooklyn. The "Believe" music video was released on July 1, 2011, coincidentally the same day that Ruth Roberts,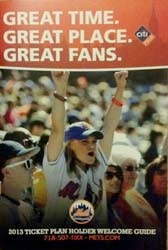 the woman who wrote the original Mets song "Meet The Mets" back in 1969, passed away. It has since become Tyler Austin of the AA Trenton Thunder (Yankees) walk-up song. It has also been placed on VH1's House of Consignment and FOX NFL's Sunday Morning Pre-game show. Martini's song "I'm Not Perfect" was placed and featured on Lifetime's "Dance Moms Miami" and subsequently "Abby's Ultimate Dance Competition."
It has created quite the buzz and has been inspiring young women including the quoting of the lyrics and the covering of the song on YouTube. Lifetime is now featuring the song on their site and on their network as well as on a soundtrack. Angel Armas and Victor Smalley, choreographers from "Dance Moms Miami" and "So You Think You Can Dance" called the song EPIC. Martini has 7 songs and counting placed on Dance Moms including: "I'm Not Perfect"; "I Salute You"; "Believe"; "Holding On Too"; "Swim: Open Waters"; "Reach For The Stars" and "I Know It's Too Late." Lori's song "Beautiful" was used for USA Network's promo trailer for "Necessary Roughness." In addition, numerous instrumentals of her songs: "Today Is Mine"; "Never Let You Fall" and "I'm Not Perfect" were used various times on NBC's "The Voice." MTV also kicked off their show NYE in NYC 2012 using her instrumental of "Pushing My Buttons" numerous times.

To say Lori is a baseball fan is somewhat of an understatement. She is an actress who got her start by talking her way into a Hugh Grant film that just happened to be shooting at Shea Stadium. She plays on several softball teams, has been to every Major League baseball stadium in the country, has her own bobblehead doll, and she has written, produced and stars in a short film called "Caught" which centers around, you guessed it, softball. She raised the money to make this film by selling Mets and Cyclones tickets. "Caught" is now making the rounds of film festivals and has already garnered a "best actress" award for Lori, and a "best drama short" award. If that were not enough, she was recently cast in a Dunkin' Donuts commercial where she plays a Mets fan. The spot aired April 2, 2012 and will run throughout the 2012 baseball season.

Lori was interviewed as a 'baseball expert' at Citi Field
by Douglas Chuck Booth who himself has been to
every Major League baseball stadium and holds the Guinness World Record of visiting 30 stadiums in 23 days!
She had accompanied him to 7 of the stadiums and was featured on SNY and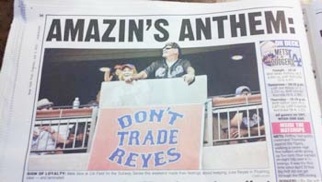 interviewed by the Cleveland Indians. Her mission is to not only try and set the Guinness World Record for women, but to have her song "Believe" played at each MLB Stadium.
"Caught" has been shown at several film festivals -- Staten Island Film Festival (WINNER: Best Actress); CT Film Festival (WINNER: Best Drama Short); The Garden State Film Festival in NJ; The Women's International Film & Arts Festival in Miami; The Boston International Film Festival (WINNER: Special Recognition Award); The Litchfield Hills Film Festival (WINNER: Best Short Film);The Buffalo Niagara Film Festival; NY Women in Film and Television Short Film Program; Manhattan Film Festival; NY New Filmmakers Film Festival and Twin Rivers New Media festival with more to come. In addition, Lori was interviewed at Citi Field by "Break Thru Films" producer Annie Sundberg about R.A. Dickey, for their documentary "Knuckleball" which premiered at the 2012 Tribeca Film Festival.

It looks like baseball has been very good to Lori, and Lori has been very very good to baseball!!!

Queens Chronicle Interview:
http://m.qchron.com/mobile/qboro/stories/queens-songwriter-delves-into-the-big-screen/article_68782c9b-9897-505b-93c8-d24c04c6d4e9.html